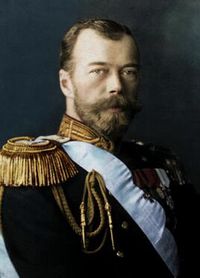 Czar Nicholas II

Many famous people and political prisoners have lived and died here including Nicholas II, the last Czar of Russia and his family, who sought a hiding place after the Bolshevik Revolution of 1917.
Unknown to the general population and to historians alike, the Czar and his family did not die at the hands of the Bolsheviks. Just days before his hiding place was discovered, Czar Nicholas II asked President Woodrow Wilson of the United States for help.
US Marines flew in and rescued the Czar and his family. They were the first to be allowed to live in the Manhattan Project. Czar Nicholas II lived there with his family until his death in 1948 at the age of 80. It was his favorite place. Nicholas II, Empress Alexandra Fyodorovna, the Grand Duchess Anastasia, The Tsarevich Alexei, the Grand Duchess Olga, the Grand Duchess Tatiana, and the Grand Duchess Marie often walked around New York city dressed as Jewish immigrants and ate at many of the local delicatessens and Italian restaurants with noted Mafia figures Gino "Little Eddie" Scugliatii, Vincent "Vinny the Pooh" Falcettie, and Bobby-Mac "The Knife" Darin. Nicholas did not want to leave the MP but he allowed his family to move to Brooklyn in 1929. "This be gut place to live," he said on his death bed. "I love New York. I love America." These were Czar Nicholas II's last words. He ate one last bit of a corned beef sandwich, closed his eyes, and passed away.